If you run a business, you may have a lot of stock that is taking up room in your home or place of work that you just don't realistically have the space for anymore. Self storage is the ideal solution for small businesses with inventory they need to keep safe and secure but don't want to invest in the long term rental of traditional warehouse space. When it comes to organising your stock, pallets go hand in hand with self storage, offering a low-cost way to keep different products separated, elevated and in good condition.
Keep Stock Off the Ground
When you rent a self storage unit like Kangaroo's business storage in Dundee, you'll start with a clean, dry, empty unit. If you're using a high-quality storage facility, you shouldn't have to worry about anything happening to the items you store inside, as the company will perform regular inspections and maintenance of the site.
That said, by using pallets to keep your goods elevated off the ground, you'll be safeguarding them against unforeseen problems such as water damage from spillages or more significant issues like flooding. Of course, we hope this never happens, and it's highly unlikely, but using pallets adds another layer of protection to your goods that wouldn't be there if you kept them on the floor.
Prevents Mould and Mildew
A reputable storage provider like our business storage in Edinburgh will make sure the facility's ambient temperature stays at a consistent and reasonable level to avoid either heat or cold having a detrimental effect on items their customers store in the units.
However, there are instances when controlling the temperature of a storage unit isn't quite as easy. Drive-up container storage units are perfect for people who want 24/7 access to their storage unit and the ability to drive their car or van right up to the doors of their unit for easy unloading. However, this unit style tends to be more exposed because they are outside, meaning they are more susceptible to fluctuations in temperature and will likely be hotter in summer and cold in the winter.
Putting your stock on pallets, particularly if it is a product that is sensitive to temperature changes, will promote good airflow and help keep unwanted moisture at bay. Even items like books, clothing, antiques and vintage furniture, fabrics and cardboard boxes will thank you for placing them on a pallet and not on the ground. The risk of mould and mildew will be mitigated if air can circulate around your stock.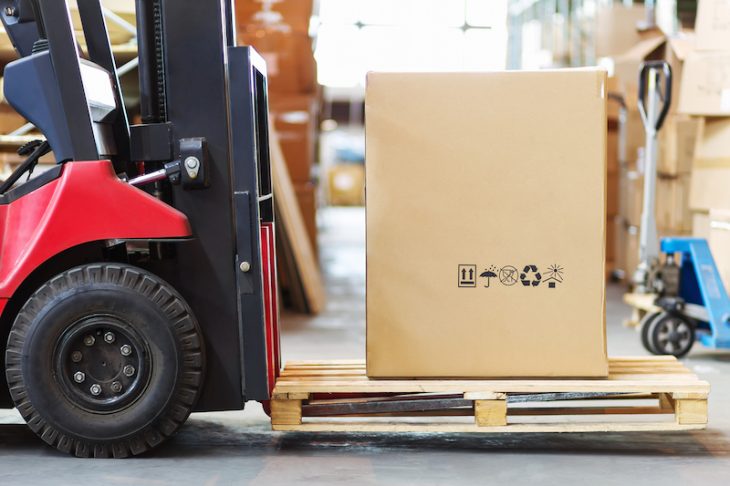 Great for Bulky Items
Pallets are the perfect choice for storing bulky items or high volumes of goods, particularly if your storage provider has a warehouse facility like we do in Dundee and Glasgow. Traditional warehouse space can be expensive and force you into a long term contract you might not be ready to commit to. Warehouse space at a self storage facility, on the other hand, operates precisely like a storage unit, meaning there are no long term contracts, you only pay for the space you need, and you can scale up and down with the demands of your business.
Pallets are extremely useful for warehouse space like our business storage in Glasgow, and with the help of a pallet truck or forklift service, you can shift heavy stock and high volumes of products around with ease.
Sourcing Pallets
If you only need a few pallets for your storage unit, with just a little bit of searching, you will likely be able to find some second-hand for either very cheap or free. Many retailers, wholesalers and suppliers who receive palletised goods may have an excess they're willing to part with or sell for a small fee. Local freecycling schemes are also a great place to look for unwanted pallets, or you may already receive your business' stock on pallets and not have to look far at all.
Wherever you choose to get your pallets from, make sure to wipe them down if they're second hand, sand off any splinters and make sure no nails are sticking out that could snag either on your stock or you. If you're concerned about what's been on the pallet before and don't want to risk any cross-contamination, a piece of cardboard, plastic sheeting or cloth will provide a simple but effective barrier between the pallet and your items.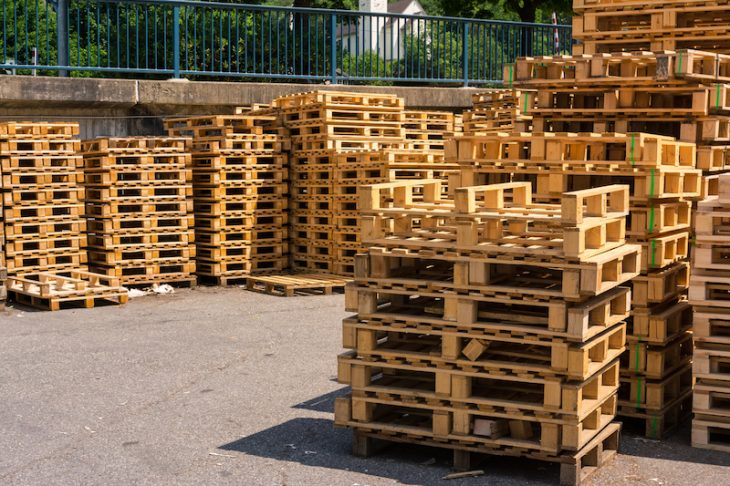 Get the Most Out of Pallet Storage
To get the most value out of using pallets in self storage, you need to know to stack things on them correctly and how to position them in your unit so you can still access all your inventory.
Heavy boxes should be stored on the bottom to prevent lighter boxes from being crushed or damaged.
Create alleyways between pallets to make sure you can safely access them from all sides.
Label boxes on multiple sides so you can identify things from all angles
Place items you need to access the most on pallets closest to the entrance of your unit and those you need the least at the back.
Whether you need space for one pallet or one hundred, Kangaroo Self Storage can help with flexible, affordable solutions. Alongside our three facilities in Scotland, we also have self storage in Altrincham, Warrington and Wirral. When you're ready, head over to our space calculator to work out how many pallets you'll be able to fit into a unit, and then get a quote using our quick and simple online service.