(LtoR) Chris, CEO of Kangaroo Self Storage with Michael Store Manager for Edinburgh and Fraser, Assistant Store Manager at our Edinburgh Storage Centre for Kiltwalk 2018.
This weekend our CEO, Chris and Fraser, Assistant Store Manager at our Edinburgh storage centre become The Smart Kangas.  They will be taking part in KIltwalk 2019  – the second time they've done a Kiltwalk.  Last year they took part in Edinburgh – this weekend it's Aberdeen.
The pair will be doing The Mighty Stride, the longest of the three walks that make up #KiltwalkAberdeen.  The 26 mile walk sets off from Potarch at about 9am on Sunday and the lovely route loosely follows the River Dee passing Crathes Castle, Drumoak Village, Peterculter, Cults and then into the city of Aberdeen where it finishes at Duthie Park. Chris and Fraser think they'll take about 7 hours to complete it.
Once again, we're raising funds for The Strathcarron Hospice, a charity that helps people with terminal illnesses to live well with their condition and make the most of the time they have.  Last year Kangaroo Self Storage raised over £300 walking The Edinburgh Kiltwalk – this year we're going not just one better, but two better.  The Smart Kangas are walking the Aberdeen, Dundee and Edinburgh Kiltwalks – DONATE here.
Chris and Fraser are our two die-hards, walking all three Kiltwalks!  But, they will be joined by members of our teams from across our stores in Kangaroo Self Storage Glasgow, Kangaroo Self Storage Dundee, Kangaroo Self Storage Edinburgh and Smart Storage for #KiltwalkDundee and #KiltwalkEdinburgh late this summer.
The boys dusted down their walking boots earlier in the Spring to get the miles underfoot and this week they've been rummaging around in storage to find their kilts!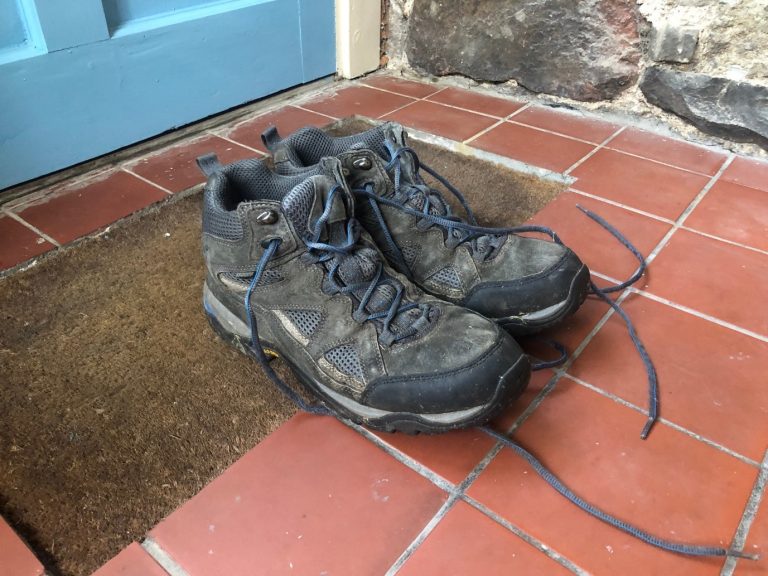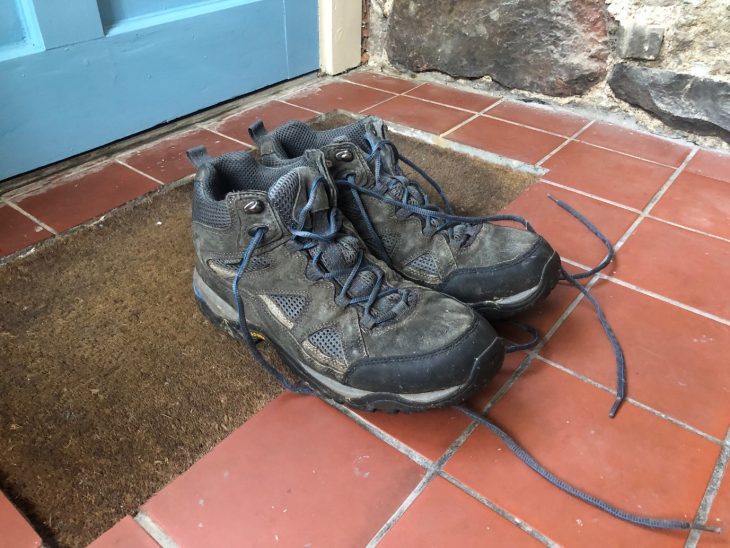 Chris makes it home after a practice walk.  Boots abandoned!
Why Strathcarron Hospice and why the Kitwalk
Strathcarron Hospice was chosen as our charity by the team in Edinburgh as one of their nurses is a domestic storage customer.
Fraser said; "After we'd been speaking to our customer a nurse in the hospice, we had a team chat.  We all agreed we wanted to do something to help – her stories really touched us.  Not only did she tell us about the work she does but also how the Hospice care made things a little easier at a stage in life that's incredibly hard – for both the ill person and for those that care for them.
"At first, we didn't know what to do – but we did know our fundraising effort would need to be a challenge.  We wanted to involve as many people in our business as possible – after-all, the more people we can get involved, the more money we can raise.  The Kiltwalk is the perfect fundraising event for Kangaroo – we have self-storage centres across Scotland - with walks in Glasgow, Aberdeen, Dundee and Edinburgh it fits perfectly.  And, whilst we raise funds we can all get a little fitter too!  Last year was an amazing experience – we can't wait for the weekend."
Over the coming weeks and months Chris and Fraser will be joined by team members out on training walks across Scotland. We'll update you on our progress as the team grows and fundraising activities and training sessions gather momentum.
Strathcarron Hospice
The team at Strathcarron Hospice provide specialist palliative and expert end of life care for people living in the Central Belt of Scotland.  They care for people with illnesses that cannot be cured including cancer, lung, heart and kidney failure and a range of non-malignant and neurological diseases.  You can donate here to The Smart Kangas - every penny you give will go to Strathcarron and what's more - thanks to the Hunter Foundation, your donation will be topped up by 40%.
The team at Strathcarron are active in the research and education of palliative care and help to shape the delivery of palliative care so those that need support benefit as much as possible.  To find out more about the work they do visit their website The Strathcarron Hospice.
The hospice is a charity – and their services are free.  They provide their services when and where they are needed – be that in patients' own homes, in hospitals and care homes and in their Denny hospice, near Falkirk.   They need to raise over £12,900 every day to keep their services running – please help us to help them.