At Kangaroo Self Storage, we believe in offering our customers the best possible service. Whether you're looking for domestic storage, student storage or business storage, our customers are at the heart of everything we do. So, we will always endeavour to meet and surpass your expectations.
Take a look at how essential customer service is for us and what our valued customers have to say about Kangaroo Self Storage.

Our Staff are Friendly
The Kangaroo Self Storage staff are always on hand to help. We strongly believe in ensuring that we are there to answer our customers' needs, such as any help with our services or dealing with issues before they arise (or as soon as possible), whether that's over the phone, email, or in person.
At Kangaroo, we want to make your life easier. We know how busy you are and that you have a lot on your mind, so we offer a smooth self-storage process to take some of the pressure off. You can trust us to help you with anything we can, from advising you on the right kind of unit for your needs to offering you competitive prices.
We're happy we've been able to help so many customers, whether it's with their business or personal storage needs. Our staff will go above and beyond to ensure you receive the very best service possible.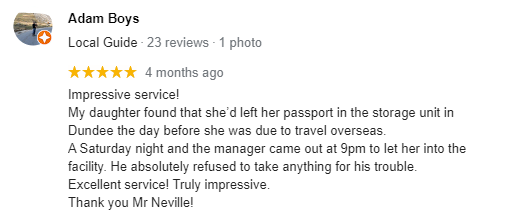 We Offer a Range of Services
Part of providing a great customer experience is to ensure that our customers have a range of services to choose from and all the information they need to make the right choice.
Kangaroo Self Storage provides secure, clean business, student, and domestic storage units so you can keep your belongings safe. We also have drive-up units and secure document shredding.
Our drive-up units are great for anyone short on time or who wants the ease of access they provide. Just drive up to our facility, add or remove your possessions and drive away. You won't even need to speak to a member of staff.
It's also easy to get a quote from Kangaroo, and we offer flexible storage agreements from as low as just seven days.
Aside from just storing belongings, you can also use your unit as an office space, perfect for those working from home or those needing dedicated space for their new business. With our units, you will have secure access seven days a week, a free goods service and mailbox service. We can also provide secure document shredding.
We're a One-Stop-Shop for Your Storage Needs
Our Box Shop can supply you with storage boxes and other packing accessories. Whether you need sturdy boxes or bubble wrap, we make it easy to get hold of everything you need for storage without having to shop around for materials. So if you run out of boxes or tape, we have everything you need on-site to carry on.
Our durable storage boxes are available in different sizes and can cater to specific items, like our specialised boxes, making it easy and safe to store items like TVs and mirrors.

Kangaroo Self Storage is Reliable and Secure
We pride ourselves on our superb service that our customers can trust. When you choose Kangaroo, you can be confident your belongings are safe in our secure units. We provide:
24-hour CCTV monitoring system
Access door entry controls
Intruder alarm systems
Personal padlocks that only you have access to
Our Units are Affordable
At Kangaroo Self Storage, we ensure you are not paying for space you don't need. It's easy to upsize or move to a smaller unit depending on your need, and we do not charge for swapping units. Just speak to a member of staff at any time. Our customers can get an amazing six weeks of free storage when they book for 12 weeks, so you'll be saving money when you store with us.

Additionally, if you're a business you'll be pleased to know that there are:
No maintenance costs
No utility bills
No business rates
No security fees
Our Stores Are COVID-Secure
Keeping our stores COVID secure is vital to your safety and the safety of our team. Our staff wear face coverings while working, and we have installed sanitation stations in our loading bays.
We deep clean our stores to ensure commonly touched spots are regularly cleaned, such as door handles, PIN pads, lift buttons, card readers and chair arms.
We have wanted to support our customers that provide essential services, so throughout the last year we have been implementing all COVID guidelines to ensure these customers can keep operating.
Customer service is just as crucial to us as our storage units' quality, so we have worked hard to ensure all customers have received the best possible experience. Please call reception if you have any questions or leave us a review on Google My Business. Visit our Feefo page to see what other customers have to say.

If you're looking for self storage in Edinburgh, Dundee or Glasgow, contact us today to learn more about our outstanding services and what we can do for you.