As leading self-storage providers across Scotland and North West England and with almost 20 years of experience in the industry, we at Kangaroo Self Storage know the value self-storage units can provide. However, we understand that if you're running a business, there's so much to consider, and you may not be aware of just how much self-storage can help you out.
Whether you're starting a new company, expanding your existing business, or just fancy a change of workplace scenery, you can use self-storage units as office spaces to enhance your working life. This serves as an advantage for many reasons, which is exactly what we're looking into in today's blog.
Why Businesses Should Use Self-Storage Units As Office Space
Utilising business self-storage offers a range of benefits; let's take a look.
Reduced Rental Costs
Renting a traditional office space can be expensive, especially in prime locations like city centres. However, self-storage unit rental fees are generally more affordable than leasing traditional office space, freeing up vital funds businesses can use to grow and expand operations. Not only this, but you still get that crucial prime location. For example, our business storage in Edinburgh is located just off the Edinburgh City Bypass (A720) in Sighthill, meaning you won't need to travel far out of the city centre to reach your storage unit.
Increased Privacy
Open-plan office areas, a standard feature in traditional office spaces, don't offer the same privacy level as self-storage units. Utilising a self-storage unit as office space provides a private and secure environment free from interruptions or disturbances, creating an environment conducive to work. This is ideal for all businesses, especially those in a transitional phase, whether starting out or expanding. Focusing on your company is crucial for a smooth transition, and working in a quiet, private space ensures you get this.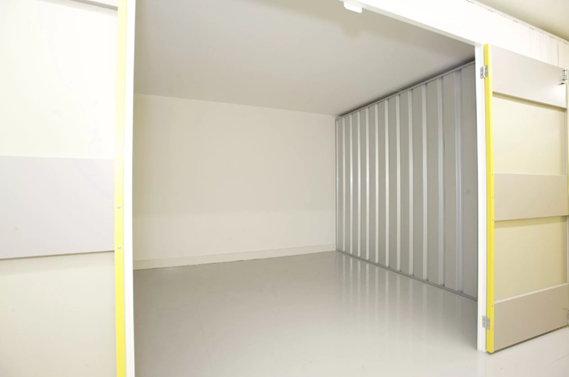 Flexibility
Self-storage units can be rented for shorter periods than traditional office space. This allows businesses to avoid long-term commitments and offers greater flexibility, which is useful if a business requires a temporary office space or is testing the water before committing to a long-term lease.
For example, at Kangaroo, our minimum chargeable storage period is fourteen days, but you can use our storage units for as short a time as you wish. This is just because we require fourteen days' notice of your intention to leave. In terms of how long you can stay, we're happy to have you for as long as you need! Whether it's a few weeks to settle in your new business venture or you're looking for a permanent relocation, you can stay.
Reduced Clutter
Decluttering your workspace is essential to improving productivity. Utilising a self-storage unit as an office space provides an excellent solution for businesses seeking to organise their space and remove excess clutter.
As well as this, we offer decluttering storage as standard at Kangaroo, so if you're relocating to work in one of our storage units but also need some extra space to store your belongings, you can do both!
Creating Your Self-Storage Unit Office Space
Now we've discussed the advantages of utilising self-storage units as office space, let's explore the process of creating that space and making it the perfect working environment.
Find the Right Unit
The first step in creating a self-storage unit office space is to find one that meets your needs. At Kangaroo Self Storage, we offer many different unit sizes, so we're sure to have one perfect for you. To select the best size, consider how you plan to use the unit. Will you be alone working on a laptop? Do you plan to invite customers or clients for meetings? Will the storage unit also act as a workshop or stockroom?
Don't forget once you've decided on what you believe to be the best size, you're not tied down to that unit. You can up-size or down-size whenever you need to; just let us know, and if we have the availability, we'll be more than happy to let you switch.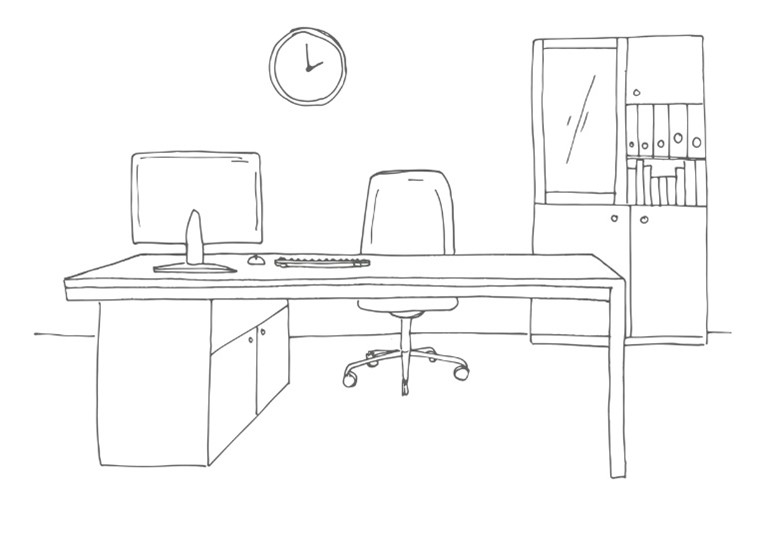 Design Your Office Space
Once you've chosen the perfect unit, the next step is to design your office space. To really make this space your own, we recommend drawing up a floor plan. Plan the placement of your furniture, electrical equipment, and any storage shelving you may need. For optimum productivity, consider the position of your chair and desk, ensuring the chair can be fully pushed under the desk, and your monitor corresponds with your eye level. If you're working with one of our smaller storage units, every inch matters, so plan carefully to avoid the space becoming overcrowded.
Furnish Your Office
When it comes to furnishing your office, simplicity is key. As you'll be using this space for work, you'll likely spend a lot of time here, so making it as comfortable as possible is important. Choose furniture that is both functional and practical based on the design of the room. Ensure that the furniture fits perfectly in the space and achieves the desired look, again, without becoming too overcrowded.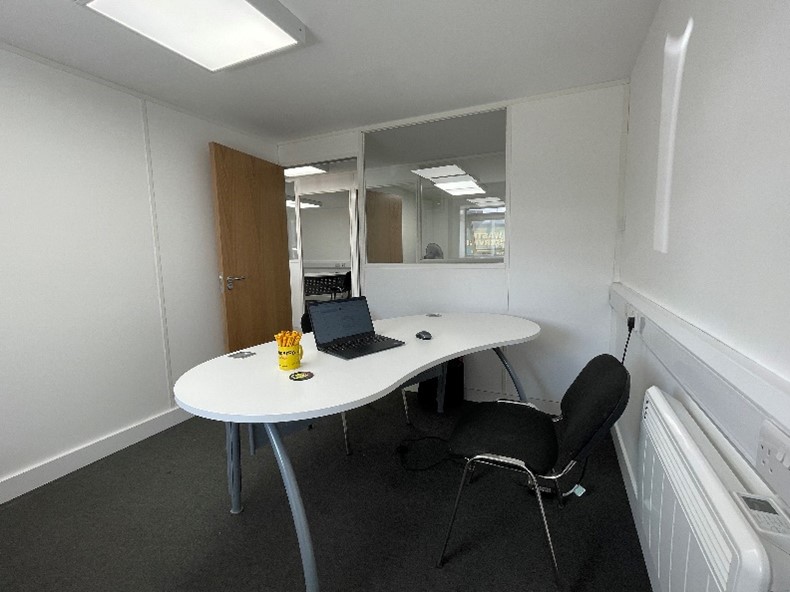 Opting for Purpose-Built Office Space
If you're looking for all the benefits of our storage units but with the added advantage of being purpose-built for work, why not opt for our office spaces? It's the perfect solution if you're moving offices or need a short-term base, just like our storage units, but with the additional plus of being built for purpose. So, with this in mind, you get:
24-hour access available
No extra costs, such as business rates or utilities to pay
No long-term commitment
Secure 24-hour CCTV
Kitchen and toilet amenities
Free parking
Free WIFI
And don't forget that storage space and mailbox rental options are also available for those who still need extra space and a safe space for mail to be delivered. Interested? We have limited availability, so make sure to get in touch as soon as possible to speak with our team and secure your unit.
If you'd prefer to make one of our storage units your ideal workspace, you'll be pleased to know we have storage facilities across Scotland and North West England, so you're sure never to be too far from one of our locations. Check out the full list below and get a quote online today: