Christmas is fast approaching, and with it comes the inevitable mountain of cardboard you'll accrue as the postman starts delivering all the presents you've ordered online. Of course, you could stuff all that cardboard into your recycling box and be done with it – but before you do, consider using some of it to make DIY Christmas decorations for your home.
Cardboard is one of the best crafting materials around – it's strong, durable, tough enough to withstand little hands and readily available in almost every home, especially around Christmas. So if you need some inspiration, have a read of our top DIY cardboard Christmas decoration ideas, grab an old cardboard box and get creating.
Some of these projects involve using utility knives and glue guns, so if you are trying them out with young children, always make sure they're supervised and handle the cutting and hot glueing yourself.
Cardboard Gingerbread Houses
If you're not confident in your skills as a baker or architect, then cardboard gingerbread houses are the perfect alternative – and they even light up! You can make these from any storage boxes or flat cardboard you have in the home.
Draw out the walls onto your cardboard using a pencil and a ruler (aim to make them 10cm tall), ensuring that the back and front pieces have pointed tops to accommodate the roof. Next, sketch out where you want the windows and door to be.
Use a utility knife to cut out your house walls, windows and door, and decorate the four pieces with a white paint pen (or coloured if you'd prefer). Add icicles, Christmas lights and embellishments around the windows.
Cut out small pieces of tracing paper and glue them to the backs of the windows and door. Then use a hot glue gun to construct the walls of your cardboard house.
Once the main body of the house is complete, you can measure, cut out and decorate the roof piece, then pop a battery-powered tea light inside to make them glow, and you're done!
You can make your cardboard houses as intricate or simple as you like. You can even add porches and overhanging eaves. As it happens, we're actually working on a cardboard replica of Kangaroo Self Storage in Glasgow ourselves…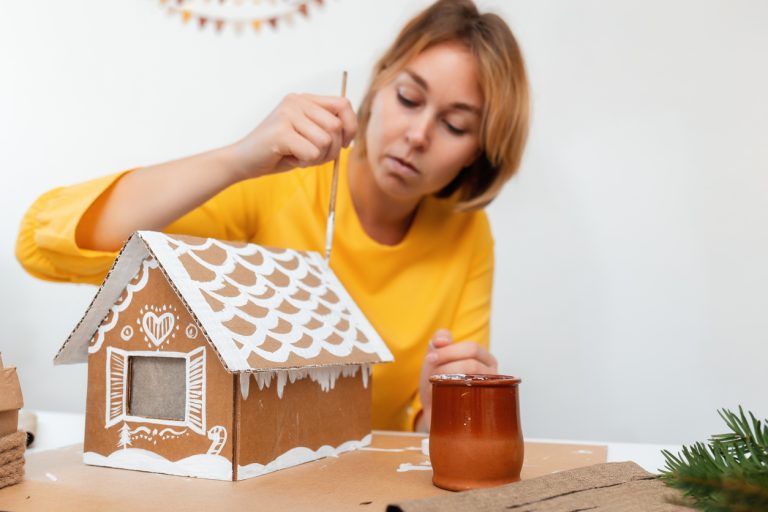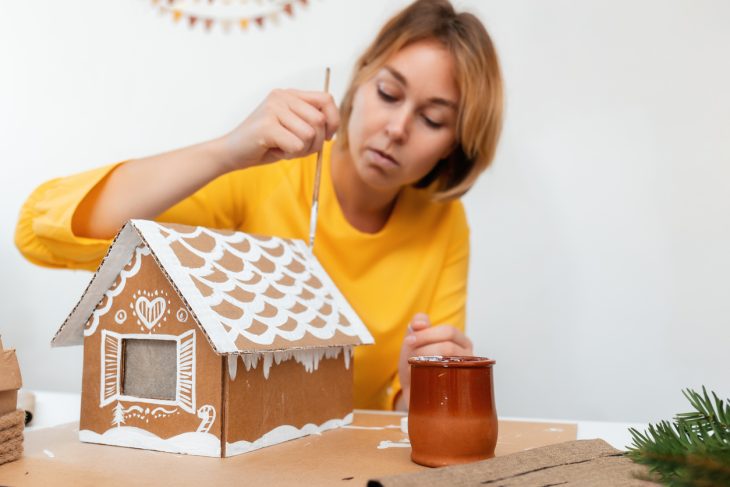 Cardboard Advent Calendar
There are loads of ideas out there for cardboard advent calendars that you can fill yourself – but many of them involve buying 24 tiny cardboard boxes. This can quickly become costly, so we wanted to choose a cardboard advent calendar that made use of something we know everyone will already have – toilet rolls!
Save up 24 empty toilet rolls and cut out 48 circles of kraft paper that are twice the circumference of the toilet roll hole. Write or stamp the numbers 1 – 24 on the centre of half of the circles of paper.
Use the 24 blank paper circles to cap off one end of the toilet roll. You can affix them using glue or a rubber band, whichever you prefer. Then, pop a treat inside each toilet roll and seal up the other end with the numbered paper circles.
Stand all your toilet rolls on their ends with the numbers facing upwards and arrange them into a shape. This could be a Christmas tree, a grid, whatever you like, as long as the structure can stand up by itself once glued together.
Glue the sides of your toilet rolls to one another and allow the glue to set fully before you stand the calendar on its end or hang it on the wall. You can decorate the exterior as much as you like with glitter, bells, ribbon – whatever takes your fancy, or you can leave it natural.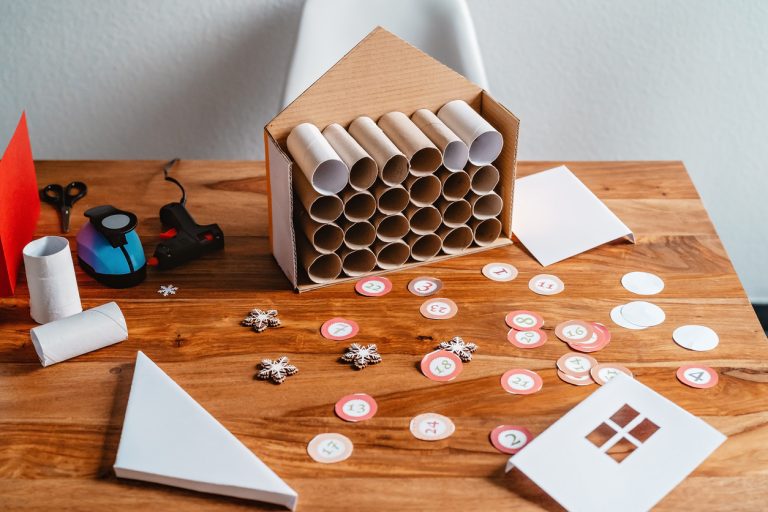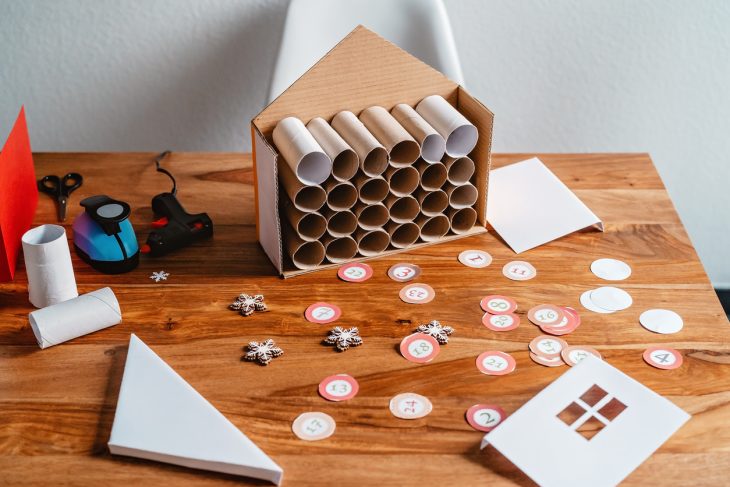 3D Hanging Decorations
Making simple but effective 3D cardboard hanging decorations is straightforward. As with all our Christmas cardboard ideas, you can decorate them as much as you like or keep them minimal for an understated, natural look. Use any good quality, thick cardboard, like that available from our box shop at Kangaroo Self Storage Edinburgh.
Choose what design you'd like to create – some easy ones suitable for little hands include Christmas trees, snowflakes and stars. Draw your design onto a piece of paper, then cut it out and use it as a template to draw two more identical designs onto your cardboard, which you'll then also need to cut out.
Using a utility knife, cut out a thin slot from the centre of one of your cardboard designs. Your slot needs to start at the bottom and end at the midpoint. On the second piece, cut an identical slot, but this time from the top of the design to the midpoint.
Decorate your two pieces as you like – we suggest covering them in glitter so they twinkle against the lights of your Christmas tree. Next, create a small hole in the top to thread some ribbon through. Once decorated, slot the two pieces together, and you've got yourself a 3D Christmas decoration.
Once you've masted the simple two-slot decorations, you can start to get creative and experiment with more pieces to create some magical winter scenes.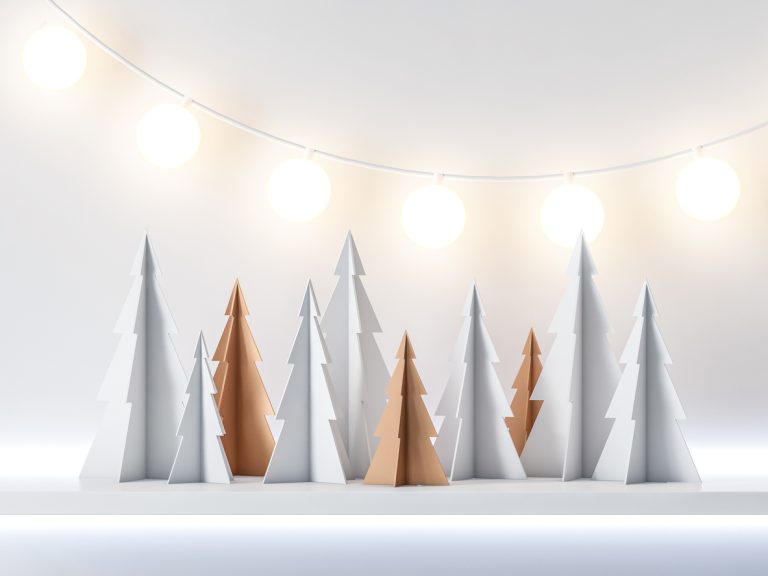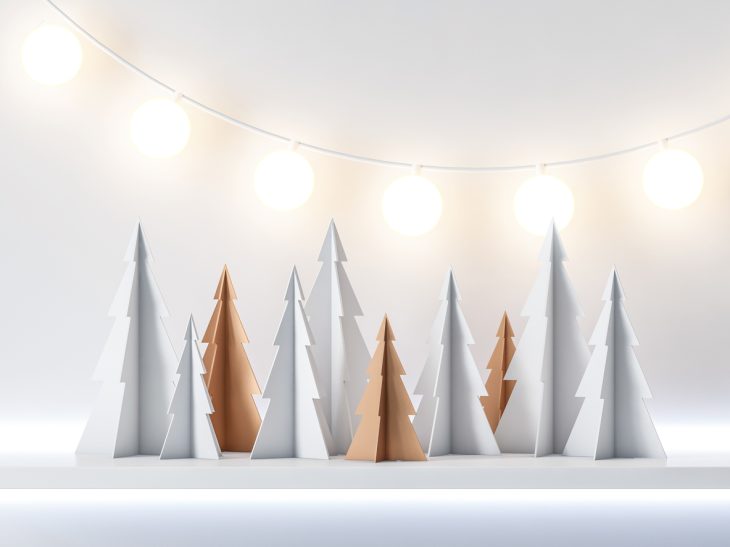 Cardboard Wreaths
Wreaths don't just have to be for your front door – every door in your home can receive the Christmas treatment, and cardboard wreaths are the perfect cost-saving solution to adding some festive cheer to your internal doors. We wouldn't recommend hanging these on external doors – as they won't hold up well in the rain. Why stop at the doors in your home? If you've got a unit at our self storage in Dundee, pop a wreath on your unit door!
Using a dinner plate as a template, draw a circle onto your cardboard, then use a smaller plate to draw another circle inside your first one. Cut out your large circle and remove the centre using a utility knife.
From here, the choice of how to decorate is all yours. For example, you could use Christmas tree offcuts, twigs and pinecones for a natural look or glue multicoloured pompoms all over the backing for a fuzzy and fun wreath. If you want to stay true to the cardboard wreath, cut out holly leaf shapes from cardboard and fix them to your backing using PVA.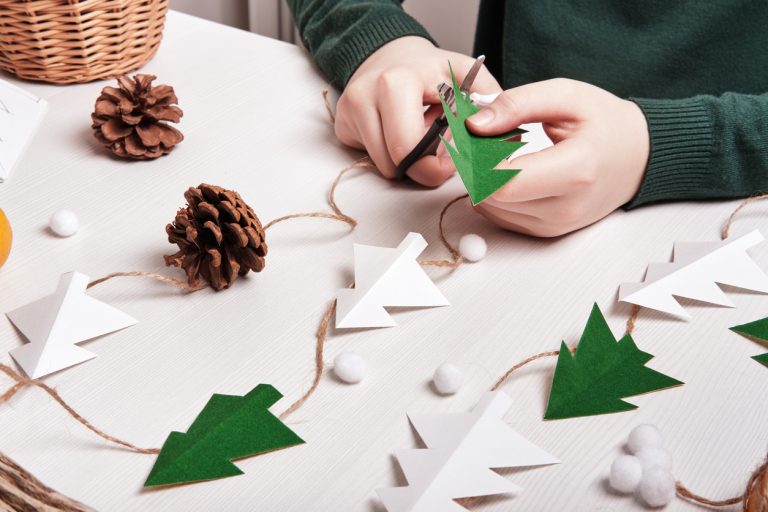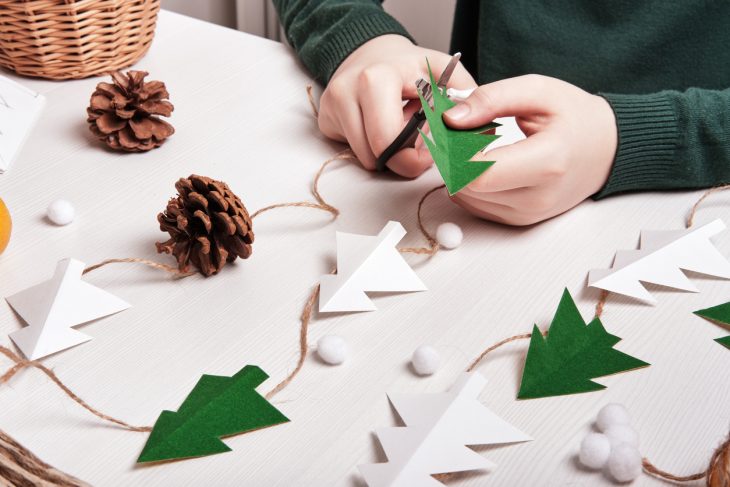 We hope this gave you plenty of fun ways to get crafting with cardboard this Christmas. As well as offering first-class self storage in Altrincham and across Scotland, we have a huge storage box shop with every type of cardboard box you could ever need for a successful home move. Contact us today for more information.