Kangaroo Self Storage has taken a further step forward in its bold ambition for growth in a strategic acquisition that sees the company gain a foothold in Cumbria, creating a link between its base in Scotland and stronghold in the North West of England.
The self-storage company has acquired the Carlisle site of Box Clever Cumbria Limited, Cumbria's quality independent self-storage business. This transaction was funded by equity from Kangaroo Self Storage and debt from their bank, HSBC.
Increasing Available Storage Space
Kangaroo Self Storage Ltd operates under two brands, Kangaroo Self Storage and Smart Storage, across nine sites in Scotland and the North West of England. The company's stores are a mixture of freehold and leasehold assets with a Current Lettable Area of 357,000 sq ft and a Maximum Lettable Area of 430,000 sq ft. The acquisition provides an opportunity for Kangaroo to increase the availability of storage services to the customer base across the Cumbria area, given that the store is only 25% fitted out. Kangaroo will be investing significantly in the store to increase the fitted space and take it up to its Maximum Lettable Area.
Box Clever Cumbria Limited's Embleton, Cockermouth site is not part of the sale and will continue to trade as Box Clever Storage. Within a short space of time, the Carlisle site will be rebranded to Kangaroo Self Storage Carlisle.
Keith Graham, the CEO of Box Clever Cumbria Limited, commented on the sale of the Carlisle store:
"We are delighted to have found such a knowledgeable and customer-focused buyer for the Carlisle business in Kangaroo. This transaction is good news for the people and businesses of Carlisle and the surrounding area. Customers will continue to benefit from the excellent and highly accessible storage facilities on their doorstep. Over the years, we have built an admirable team in Carlisle, and I am delighted to confirm that the team will support Kangaroo through the sale, with a member also joining the Kangaroo team full time as part of this deal."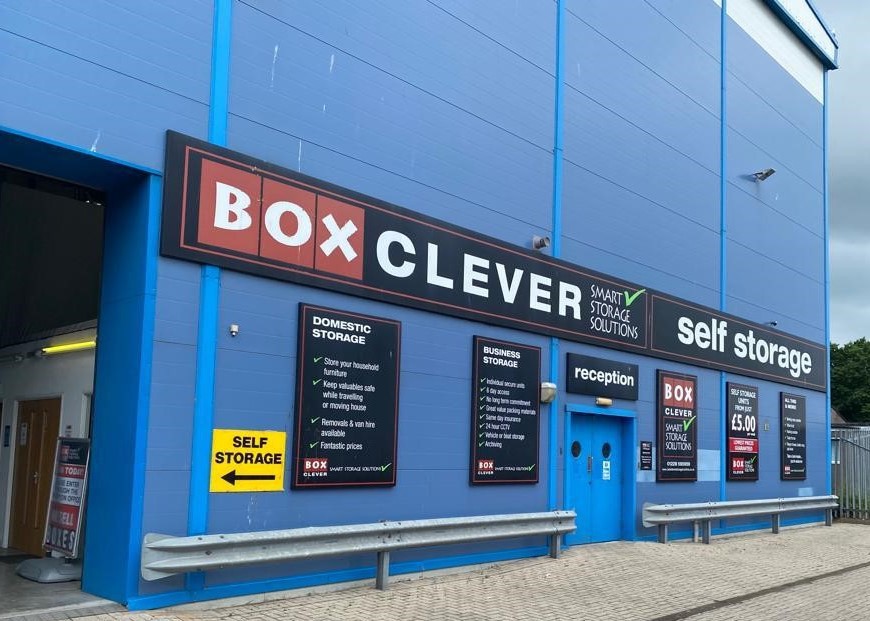 A Response to Rising Demand
This latest acquisition signals a new phase in the growth of Kangaroo's portfolio as the company responds to rising customer demand in a post-Covid environment. It comes off the back of a year that has seen the company make significant investments in a number of their current sites, including adding 30,400sq ft in Wirral and a further 10,000 ft of Maximum Lettable Area in Dundee. The company is currently adding a further 11,000sq ft to its Edinburgh store with a new phase of fit out.
Kangaroo Self Storage has seen a strong year and when benchmarked against the latest 2022 Self Storage Association report compiled by Cushman & Wakefield, has outperformed the industry national average on a number of metrics. Kangaroo has a stated average occupancy of 85.3% for 2021 of current lettable area against a national average of 83.3%, and the business has increased its rate per square foot well in excess of the national 9.1% average.
A Word from Kangaroo CEO, Chris Stevens
Commenting on the purchase, Chris Stevens, CEO of Kangaroo Self Storage, said:
"I am really pleased to have found a like-minded business in Box Clever Cumbria Limited, and the addition of Carlisle as a location makes strategic sense to our existing portfolio of storage centres. The Carlisle store's highly accessible situation off the M6 makes it immensely convenient for all customers and in particular our business customer base, supporting commerce between Scotland and the North of England.

"Having been to the store at Carlisle on a number of occasions during the sale process, I see a strong work ethic, a knowledgeable team, and a determination to ensure customers are put first.  No doubt as we work together, we will learn from each other, and this will lead to enhanced customer service not just for customers in Carlisle but for customers across the Group. I would like to thank Keith Graham and his team for their contribution and dedication to the business.

"Together with my management team, I will look to continue our strategy of acquiring complementary businesses and adding new stores via organic growth to expand our capabilities. That, plus our ongoing commitment to provide value-for-money, high quality, secure storage rooms coupled with attentive service will enable us to continue to attract and retain customers – across the business, domestic, and student markets."
Kangaroo Self Storage was advised by JLL, MBM Commercial LLP and Temple Bright LLP. Box Clever Cumbria Limited was advised by Baines Wilson LLP.